As a research fellow at the New York Botanical Garden Library, it was with a mixture of wonder and embarrassment that I realized, in late October, that I'd never taken in the Georgia O'Keeffe exhibition. Then in its fifth and final month, Georgia O'Keeffe: Visions of Hawai'i centered on her paintings of Hawaiian plants and landscapes executed at the behest of the Hawaiian Pineapple Company in 1939. Incongruously, I encountered these while the garden grounds were already well-tinged with the colors of autumn.
My first stop was the conservatory. Encapsulated by a cosmopolitan admixture of Caribbean, Central American, Pacific, Amazonian, African and Southeast Asian rainforest flora, it bore reminding, at times, that I was there to see a Hawaiian-themed exhibition. Poetry readings – hanging from branches or attached to fixtures – helped to provoke a more rooted conception of Hawaiian environments and experiences, while also (one imagines) eliciting something akin to the genius loci that informed O'Keefe's painterly response. Brandy Nālani McDougall, a Kanaka 'Ōiwi poet and literary scholar, situates readers at the crater of Haleakalā, the highest point on the island of Māui, looking down on the green summit of Pu'u Kukui. This viewpoint elicits reflections on the origin of fire, on the role played by Māui (as kupua) in fishing up the islands using the manaiakalani – a hook memorialized in a stellar constellation – and on Hawaiians' deeply felt connection to their ancestral lands. Beside a stream trickling into a pool below, I contemplated the human-like utterances of "wet bamboo clacking in the night rain," courtesy of the ecological poet W. S. Merwin. Or, with the linguist and environmental activist Kahikāhealani Wight, I imagined myself seated "on a downed branch of the giant koa," an ancient survivor of incalculable tribulations and torments, enclosed in a field of mist-enshrouded palapalai ferns and maile vines.
These place-making efforts are abetted by an impressive collection of Hawaiian plants –  accompanied, in most cases, by their Hawaiian names: kava (Piper methysticum), 'ulu (Articarpus altilis, or breadfruit), niu (Cocos nucifera), mai'a (Musa spp.), kalo (Colocasia esculenta), kī (Cordyline fruticosa) and others. The curators thoughtfully distinguished between canoe plants – those introduced by Hawai'i's first peoples from Western Polynesia – and those that predated human settlement altogether.
This context is pivotal for situating O'Keeffe herself. No doubt unknowingly, all of the plants she painted are foreign importations. Pineapples and Brugmansia are South American, the pink torch-ginger (Etlingera elatior) and pink ornamental banana (Musa ornata) come from Southeast Asia, lotuses (Nelumbo spp.) are native to Asia, North America and the Caribbean, the papaya and Heliconia rostrata hail from Central and South America, while the bird of paradise (Strelizia nicolai) is native to South Africa. Even O'Keeffe's four hibiscus paintings correspond exclusively to the Asian Hisbiscus rosa-sinensis, when she might have drawn on any of the numerous endemic species.[1]
My next port of call was the top floor of the magnificent LuEsther T. Mertz Library, where O'Keeffe's paintings – in effect, the centerpiece of the show – were displayed. The first room showcased the two Dole advertisements adapted from her work: one featured a pineapple (pictured), and the other a Heliconia. The display then transitioned to a small (and on my visit, very crowded) gallery featuring O'Keefe's Hawaiian paintings and drawings, including Hibiscus with Plumeria, the striking Fishhook from Hawai'i, No. 1, and landscapes like the Waterfall, No. 1, 'Īao Valley, Maui – all rendered in her trademark abstract form and eye-popping intensity.
As undeniably gorgeous as this work is, there is, I think, a missed opportunity here. In displaying the advertisements themselves, the curators would have done well to apprise spectators of the Hawaiian Pineapple Company's entanglement with the very foundations of settler colonialism in the archipelago. The connection, in fact, was personal. Company founder James Dole was first cousin once removed to none other than Sanford Dole: coauthor of the infamous Bayonet Constitution, leading advocate for Hawaiian annexation (which eliminated the tariff barrier for, among other things, pineapple consumption in the United States), and the Hawaiian Republic's first president. Thereafter, the pineapple industry became a prominent contributor to an export-oriented system of production that displaced indigenous foodways and encouraged a wholesale reliance on imports. It's possible to see O'Keeffe's paintings, emptied of indigenous peoples and even of discernibly native flora, as playing a similarly colonizing role – one distinct from but not unrelated to Dole's horticultural colonization, or even to the exoticized and – pace O'Keeffe – often highly sexualized representation of Hawai'i as a "tropical paradise" in marketing material from the era.[2] This outsider perspective would have been largely unavoidable, given O'Keeffe's brief stay in the islands and the elite settler circles with whom she socialized. Nevertheless, these considerations sit uneasily alongside both the recent surge of Kānaka Maoli activism against analogous corporate distortions, as well as the indigenous themes foregrounded – often beautifully so – in the conservatory portion of the exhibit.
Descending two flights of stairs brought me to Off in the Far Away Somewhere, a short film chronicling O'Keefe's reflections in letters to her husband (the photographer and curator Alfred Stieglitz) over the course of her trip. O'Keeffe's exuberance is tangible: eating raw fish for the first time, wearing necklaces made of "flowers strung together like wonderfully wrought metalwork," and meeting people who "have a kind of gentleness that isn't usual on the mainland." It is her visual impressions, however, that occupy center stage: "queer formations" wrought by lava bridges against the incoming tides; horizons where "sky became water and water became sky," "waterfalls, mostly very thin, tumbling way down from way up high," and the "queer rich lichen sort of green" adorning the "sharp pointed hills." All this added up to "a sort of dream land," "one of those perfect places nature arranges once in a very long time."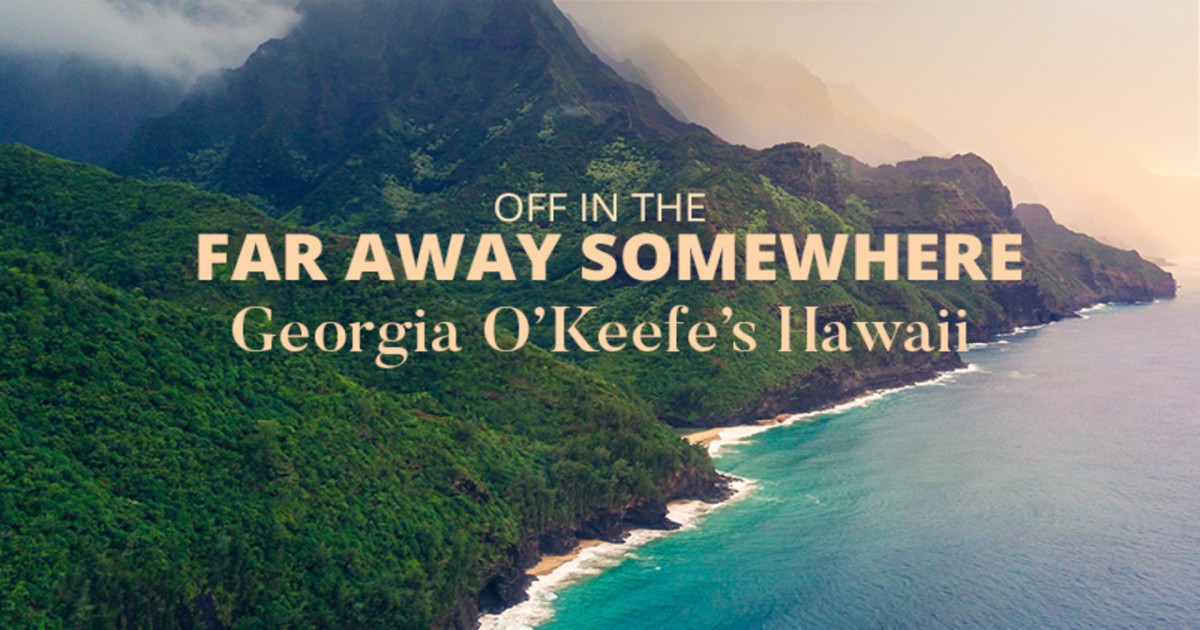 An adjoining corridor grounded these ethereal musings in taxonomy, biodiversity science and material artefacts. Whether O'Keeffe realized it or not, the landforms she descried were home to native species that are over 90% endemic. And far from being a product of "nature," these were lands intensively managed by Kānaka Maoli. New York Botanical Garden herbarium and economic botany staff  are uniquely placed to spotlight these attributes. In the century since the botanist Otto Degener first embarked on his studies of Hawaiian botany, in fact, NYBG affiliates have played an important role in elucidating Hawai'i's unique flora and its indigenous uses. Recent efforts have focused increasingly on issues of conservation and restoration. Displays here featured herbarium sheets alongside ethnobotanical artefacts and placards describing everything from kalo (a staple food crop) and kukui (a source of flammable oil) to botanical invaders like 'Awapuhi ko'oko'o (Miconia calvescens), pink torch-ginger (Etlingera elatior), which features in one of O'Keeffe's paintings, and, of course, the pineapple itself.
The final gallery on the Library's ground floor gave further background on O'Keeffe's experiences using letters, news articles, tourist brochures and other paraphernalia. The display reminds that such a voyage, from New York to Los Angeles via train, and thence to Honolulu on a luxury ocean liner, was reserved largely for the moneyed few – or in O'Keeffe's case, for those traveling under the auspices of a wealthy corporate firm. Surprisingly, I saw no further context regarding the – at the very least, problematic – commodifying role played by the Hawaiian tourist industry. Similarly, an early-twentieth-century photograph of plantation laborers at work in a pineapple field would have been a fitting occasion for some notice of the impact of large-scale monoculture food systems on Hawai'i's indigenous ecology and culture, especially in light of the conservation ethos expounded in the previous display. Instead, the photograph served only as visual accompaniment for O'Keeffe's reflections on the visual contrast between the plant's silver foliage and the brown earth visible between the rows. The display did , however, hint at other, more deeply rooted histories in play before, during and after O'Keeffe's brief sojourn in the archipelago. Beside a scaled-down image of O'Keeffe's Waterfall, No. 3, 'Iao Valley, for instance, I read that the area is "sacred to many Hawaiians," owing to Kamehameha's bloody 1790 campaign at that site in his quest to unite the islands under his rule. "O'Keeffe," the placard noted, "was not familiar with 'Iao Valley's historic and cultural significance."
As disappointing as it was to see portions of Georgia O'Keefe: Visions of Hawai'i give short shrift to critical issues raised by O'Keeffe's work, it's perhaps unsurprising given the gorgeous living and painted materials at the curators' disposal – items perhaps better suited to dazzle and delight rather than inspire reflection on controversial, or even disheartening, histories and legacies. The exhibition catalog is, thankfully, less encumbered by these criteria, and provides vital context for O'Keeffe's interpretations of Hawaiian plants and environments.  Following a useful biographical overview from the lead exhibit curator Theresa Papanikola, an essay by Joanna Groarke zeroes in on O'Keeffe's methodological use of sketches and photographs to condense abstracted, formal essences from multifaceted, more "documentary" subject matter.[3] Desoto Brown's description of Hawai'i's representation in American popular culture – from films and music to the opulent cruise liners and Hawaiian luxury hotels frequented by well-heeled celebrities – sheds light on prevailing ideas and images of Hawai'i in the decades surrounding O'Keeffe's visit. Brown rounds off by considering "Hawai'i's reputation as an alluring fantasy," personified as a "South Sea maiden with the red hibiscus in her hair whom you have always wanted to meet," alongside a Dole advertisement featuring two suggestively depicted Hawaiian women, but, disappointingly, fails to address the exploitatively erotic and colonialist symbolism at work in this imagery.[4]
The volume gestures in a more critical direction with Alicia Inez Guzmán's discussion of O'Keeffe's New Mexico experiences. Between 1929, when she first visited New Mexico – following a number of anthropologists and fellow artists – and her trip to Hawai'i in 1939, O'Keeffe developed a more grounded familiarity with a region inhabited by Pueblo, Diné, Apache, Comanche and Ute peoples, as well as diverse Hispanic, European and Anglo-American settler cultures. It's difficult to speculate on what O'Keeffe thought of the Hopi, Pueblo and Diné ceremonies she witnessed; she almost certainly shared in the then-voguish enthusiasm for purportedly static, primeval indigenous cultures as an antidote to modernity. Formal parallels between her New Mexico and Hawaiian painting – the deep crevices in Waterfall, No. 3, 'Īao Valley, Maui (1939) and Black Place II (1944), for instance – hint at a broader imaginative correspondence. These were, after all, localities only recently colonized by the United States, for which O'Keeffe's work provided "visual placeholders" for metropolitan viewers. Her paintings of Hawaiian landforms devoid of human inhabitants were similarly akin to her description of the New Mexico desert as "empty and untouchable."[5] Guzmán situates these abstractions against the deep time of Diné creation, and geographically, in Diné ancestral lands – territories that, since O'Keeffe's era, have suffered appalling heights of environmental racism in the form of uranium mining, coal pollution and fracking, to name a few. Emptied of cultural significance for colonizers, they have served as a "national sacrifice zone" from the Nixon era forward.
The final essays continue this trajectory. A never-before-published contribution from the Hawaiian botanists Otto (1899-1988) and Isa (1924-) Degener offers cautionary remarks on the archipelago's phenomenal biodiversity. Although colonization by non-endemic flora commenced with the arrival of the first Hawaiians, the authors note, it began anew after James Cook's ill-fated visit in 1778, and took on truly disastrous proportions with the twentieth-century advent of large-scale food production and tourism. Enlarging on these themes, the conservation ecologist Samuel M. 'Ohukani'ōhi'a Gon II contrasts this foreboding picture with Kānaka Maoli lifeways that once supported large populations with comparatively minimal environmental disruption. O'Keeffe's Hawaiian paintings, however, derive from an era when settlers failed to appreciate Kānaka Maoli ecological worldviews, according to which ancestral spirits frequently adopt the form of plants and animals. Such a philosophy encompasses a more sustainable coexistence with nature, in contrast to the exploitative cosmology embodied in monoculture sugar, papaya, and of course, pineapple cultivations. As Gon puts it: "When the gods are also your ancestors, and the elements of nature are their physical presence, your fundamental relationship with nature is transformed. Seeing all living things as connected to you, as family, brings something to your life that is much richer than thinking of yourself as a consumer and the world as being made up of commodities."[6]
My experience of Georgia O'Keeffe: Visions of Hawai'i coincided with, among other things, North America's worst hurricane and wildfire season on record, climate change denial at the highest political echelons, and, in the exhibit's final days, the Hawaiian Legislature's contentious approval of a thirty-meter telescope atop Mauna Kea – a mountain Kānaka Maoli consider sacred. "It bears wondering," Guzmán asks, "whether today's viewers of O'Keeffe's famous paintings have any idea of the degree of endangerment being faced by these landscapes (and their stewards) so deeply affiliated with the artist and with the West as a whole."[7] To be sure, my viewing missed the exhibit's elaborate supplementary programming – kapa- and lei-making, hula performances, films, music, and so on – which would assuredly have deepened my experience. And for whatever reason, my phone was unable to connect with the audio guides signposted throughout. Yet, like Guzmán, I wondered how many exhibition viewers missed this important contemporary context, particularly if they passed on conservation-oriented segments in favor of more eye-catching portions of the exhibit, or simply preferred to explore other garden attractions. Invaluably, the catalog essays go some way toward rectifying this difficulty by making this essential context inescapable. 
Notes
[1] Joanna L. Groarke and Theresa Papanikolas, "Catalog," in Georgia O'Keeffe: Visions of Hawaii, ed. Groarke and Papnikolas (New York and Munich: New York Botanical Garden and Prestel, 2018), pp. 81-133, on p. 98.
[2] Haunani-Kay Trask, From a Native Daughter: Colonialism and Sovereignty in Hawai'i, 2nd ed. (Honolulu: University of Hawai'i Press, 1999 [1993]), p. 17.
[3] Groarke, "Snapshots of Hawai'i: Sketches and Photographs," in Georgia O'Keeffe, pp. 25-37, on p. 35.
[4] Desoto Brown, "Hawai'i in the American Popular Imagination in the 1930s," in Georgia O'Keeffe, pp. 39-45, on p. 45.
[5] Alicia Inez Guzmán, "Placing O'Keeffe," in Georgia O'Keeffe, pp. 47-59, on p. 56.
[6] Samuel M. 'Ohukani'ōhi'a Gon II, "Aloha Āina: Hawaiian Ecology and Culture," in Georgia O'Keeffe, pp. 69-79, on p. 76.
[7] Guzmán, p. 58.